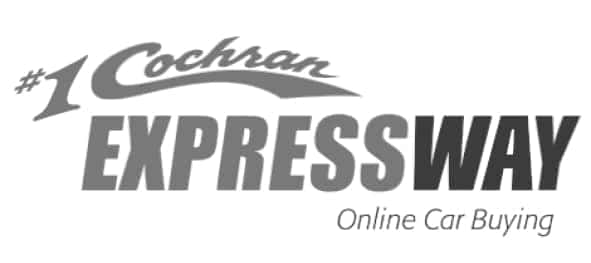 ---
FROM THE PARENT OF
TRANSPARENT PRICING
After revolutionizing the auto industry with Clearly Better Car Buying in our showrooms, we've taken our radically transparent pricing and hassle-free experience online and elevated the buying experience yet again.
My husband and I were very impressed with everything that you offered. We would recommend to other people.
Cochran Madza was great! I just bought a brand new Madza cx5 off of Ron Gaydos and his team. They could not have been any better. They helped us thru the whole process with ease. Ron Gaydos was great and I would highly recommend him to everyone. We love our new Cx5!
Cochran Mazda, and Thomas Rice in particular made the entire buying process a breeze. I would recommend them to anyone , and go back myself.
Great experience! Ben was very helpful and responsive to my questions. Love my new Mazda.
I recently purchased a vehicle from Cochran Mazda North Hills. From start to finish I could not be more impressed with the courtesy, professionalism, and respect I experienced. Miranda E. was truly the best salesperson I have encountered in the industry. She was incredibly fair, knowledgeable, and helpful at every juncture. She took the time to answer all of my questions, walk me through every feature of the vehicle, and engage with me even while she was out of office. The entire purchasing experience was far more pleasant and efficient than I anticipated, and I would wholeheartedly recommend Cochran Mazda North Hills (and Miranda in particular) to anybody interested in a vehicle.
I bought my second car in the same place because of Miranda . I got the best customers service here thanks to her she was above my expectation. Thanks to her manager and financial person. I will recommend to everyone Miranda and her dealership Thank you soo much you are the best. .
Worked with Anthony P. He did a great job of lining up test drives, tracking cars coming into inventory and working out my deal. The deal was very fair and he even helped with finding me my car on his day off. With cars flying off the lot getting mine secured on his day off was key!
I had an excellent car buying experience with Cochran Mazda. It was great working with John Huebner. Even with all of the supply chain issues, he kept me very up-to-date on the status of my new cx-50. Everyone was very pleasant to work with, and no one tried to unnecessarily upsell me on anything. I highly recommend Cochran Mazda.
Jamie Birsie...great sales guy to deal with!! Everything went smoothly. Love me new Mazada CX5. 😊
My salesperson Jamie Bursick was excellent, professional and attentive to All our needs. Everyone was helpful and Courteous .
Just bought a Mazda CX-5 at Cochran Mazda. Excellent experience! Thomas Rice made buying a new car easy. Very happy with the dealership and salesman!
Ben Schuster is great! From my first visit till I got my car, I have very nice communication and following-up experiences. Things are not easy during the pandemic, I appreciate the service I got from here.
Ben Schuster (@ Cochran Mazda of North Hills) is amazing! I really appreciate his effort in helping me buy the car. It was a smooth purchase experience. Everybody is friendly here.
Miranda Eichelberger was terrific and communicative throughout (we started in February and the car was delivered in June). Very happy with the vast majority of the process and her help.
It was a great experience. Ben Schuster was awesome to work with and made every part of the process super easy
Jamie Birsic and Cochran Mazda are awesome! We no longer dread the dealership experience. They are nothing short of stellar to interact with and purchase through. We've been to many local dealers and they were all horrible to deal with... hidden fees, lies, bait and switch tactics, and rude salespeople. That is not the case at Cochran Mazda. Once we met Jamie we never considered going to any other dealership.
Just bought my new Mazda CX-5. I ordered one and it took a few weeks to come in. John was very helpful and kept me in the loop! They were very kind and helpful!
When I went to Cochran Mazda to purchase my CX30 I felt immediately at ease. My sales rep, Miranda, was so kind and patient. The car I was driving was a 2007 so all the safety features were new to me. She was one of the reasons I purchased this car. I have never had a salesperson that made car buying so easy. I would highly recommend Miranda to anyone buying a new car.
I had a great experience at Cochran Mazda in the North Hills. This is the 4th Mazda CX-5 that I've gotten there and the third time Jamie Birsic helped me find the car I was looking for. He made everything easy all four times and I've been very pleased every time! Krissie in the Financial Department couldn't have been more helpful. She explained everything to me and was easy to work with. Jamie and Krissie are delightful to work with and I highly recommend them!
Great experience both shopping and service. Domenic my salesman was the greatest. No pressure and very accommodating. Drove many cars before I decided and was never made to feel like I was wasting anyones time. Had some service done, given a loaner and seamless service. The BEST
I've had an amazing experience at Cochran Mazda of North Hills. I worked with Miranda to find the right vehicle for me. I went there for a scheduled test drive with 2 selected vehicles. Fortunately, I met Miranda there and she showed me a Mazda 3 that fits me better and we closed the deal. Also, Kristen in the finance department made everything go so smoothly and pleasant.
I've had an amazing experience at Cochran Mazda of North Hills. I worked with Miranda to find the right vehicle for me. I went there for a scheduled test drive with 2 selected vehicles. Fortunately, I met Miranda there and she showed me a Mazda 3 that fits me better and we closed the deal. Also, Kristen in the finance department made everything go so smoothly and pleasant. Actually, "pleasant" is the word that described best my experience at the dealership where Mike completed the whole picture with a door delivery! Thank you all!
Excellent service as usual. Five cars in a row from Cochran and never an issue.
Just bought a new CX-5 from Cochran Mazda in Wexford Pa and I am completely satisfied with the service that I received from everyone, starting with my salesman Jamie Birsic. I would recommend them to anyone who is interested in purchasing a Mazda.
I just purchased a 2022 Mazda CX-5 yesterday from Cochran Mazda in Wexford North Hills dealer ship. I started looking on line then I received a text message from Donna. She answered a lot of my questions then we decided to schedule me to come in and look at the cars in person to see the different features of each car and test drive one to see which one I liked the best. Before walking in there I was extremely scared because I have never bought a car on my own before. My ex husband always has done it for us. I always feared car salesman. Afraid they would sell me an extra feature on the car I didn't need or say something I wouldn't understand or be too pushy which I do not like at all or talk to you much.Then I met Dominic Hussion. He was the opposite of everything I feared. Explained everything,everything in a super easy way. All the different car Features, showed me how everything works,all the different gadgets. Broke down all the prices,what it would be a month. Was super patient with me. Never ever pushy he listened more than talked and I truly appreciate it that.He has so much knowledge and answered all of my questions. Truly put me at ease. The manger came out and introduced himself and said hello each time we were there. Super polite and very professional the entire staff were super nice.I would recommend this dealer ship to all of my family and friends.
#1 Cochran Mazda
Wexford, PA
11740 US-19, Wexford, PA 15090
Hours
Sales
Monday - Thursday: 9:00 AM - 8:00 PM
Friday: 9:00 AM - 6:00 PM
Saturday: 9:00 AM - 5:00 PM
Service
Monday - Friday: 7:30 AM - 6:00 PM
Saturday: 8:00 AM - 3:00 PM